Submissions Hitting A New Record for the 10th Taiwan International Documentary Festival
2016/01/05 15:57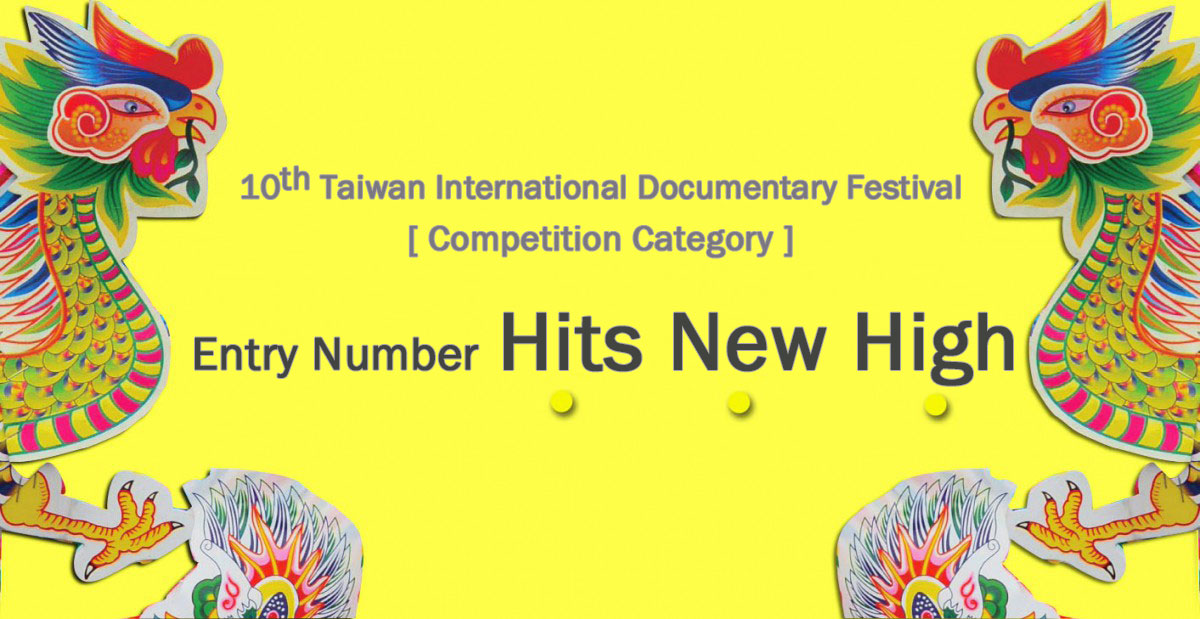 Submissions Hitting A New Record for the 10th Taiwan International Documentary Festival
The 10th Taiwan International Documentary Festival (TIDF) has closed submission on Dec 10th with a total of 1700 entries, hitting a new record two years in a row. Entries from 117 countries and regions covering a wide variety of topics. Many focus on war and refugee circumstances, reflecting the current global situations and the ambition of documentary filmmakers to engage with the troubled time we live in.
TIDF was established in 1998 and will celebrate its 10th edition in 2016. It is one of the most important and influential documentary festivals in Asia as well as in Chinese society. TIDF encourages experiment and constant re-think in the aesthetics and forms for documentary filmmaking, at the same time promotes outstanding documentaries with independent viewpoints, creativity, and humanity. In the 10th TIDF, 11 awards will be presented amongst International, Asian Vision and Taiwanese Competition, including special awards such as Chinese Documentary Award, encouraging creative Chinese documentaries, and the Next Generation Award selected by a group of youngsters. The total cash-prize exceeds NT$2,000,000 (approx. US$60,000), which is the highest amongst documentary festivals in Asia.
The biennial attracts excellent documentaries from all over the world, showing not only new forms of documentary art, it also reveals the global situation and the filmmakers' dialogues with the time in which we live. Amongst the 1210 entries in the International Competition this year, many engaged in subjects of refugee circumstances, women's rights, ecology, environment awareness, and even alternative therapy. It is also an exhibition of the filmmakers questioning, pondering and taking actions as a part the society.
Documentary industry in Asia is relatively new than that in other parts of the world. Yet, the complexity in history and cultural diversity in Asia provide a vibrant atmosphere for the filmmakers. Starting from the last edition, TIDF competition established a new category, Asian Vision Competition, to highlight Asia-related documentaries with unique viewpoints and independent spirit, creating more opportunities for Asian filmmakers and their works, and non-Asian filmmakers with their fascinated stories related to Asia. 490 entries from different corners of Asia, including Japan, South Korea, the Philippines, India, Bhutan, Iran, Lebanon, etc., were submitted to this category. These entries elaborate local cultures with both uniqueness and universality, showing richness and creativity in Asian stories.
For the Taiwanese Competition, a total of 186 entries was received for this edition. Subjects ranging from house demolishing, environment, literature, art, and experimental films. Meanwhile, 183 entries from China also hit a new record, accounting for 10% of the total entries. It is also the country with second most entries for this edition. Many entries from Hong Kong focus on the Umbrella Movement took place in 2014. The number of entries from Singapore and Malaysia also increases substantially. These all indicate TIDF's increasing influence in Chinese society as well as in Asia.
Fifteen films for each competition category, including International, Asian Vision and Taiwanese Competition, will be shortlisted for the final awards. We hope these outstanding documentaries present different perspectives for documentary filmmaking and the world to Taiwanese and worldwide audience. The nominations will be announced in late February for the coming up festival on May 6-15 at SPOT Huashan and Shin Kong Cinemas in Taipei. For more information, visit TIDF official website. (www.tidf.org.tw)

(Translated by Charlene Huang)