The 13th TIDF Call for Entry, Starting from 6 Sep. 2021
2021/09/01 15:00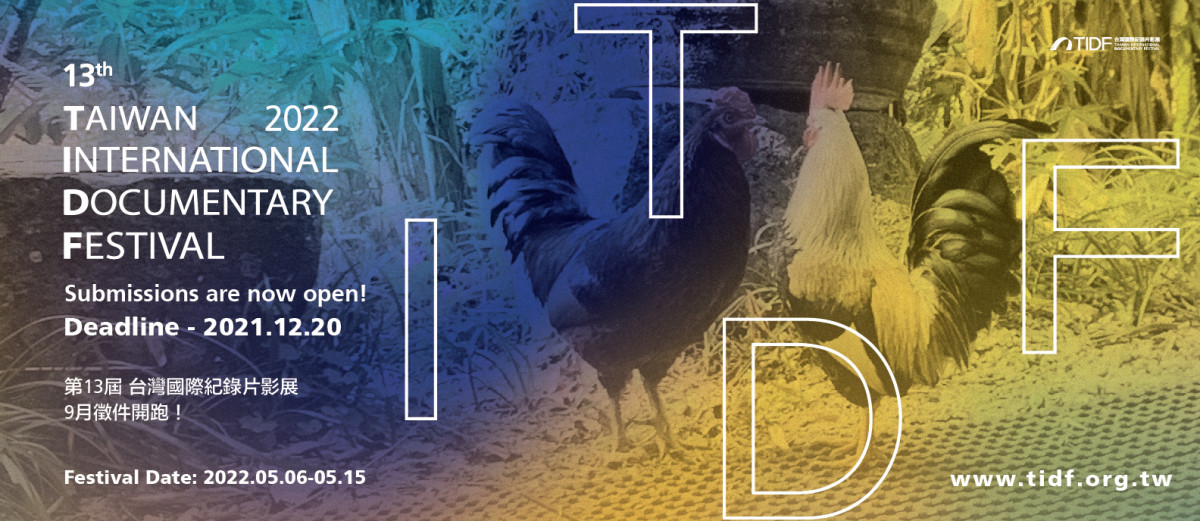 Taiwan International Documentary Festival (TIDF) is organised by the Taiwan Film and Audiovisual Institute. Adopting 'Re-encounter Reality' as its core philosophy, TIDF showcases documentary films that reflect contemporary culture and challenge boundaries. As one of the major documentary film festivals in Asia, TIDF lays emphasis on promoting the variety of vigorous Asian documentaries, and providing a platform for showcasing works from the Chinese-speaking world that are in search of creative liberty. We are calling filmmakers who ponder and experiment with the aesthetics of documentary filmmaking around the globe to submit documentaries completed after 1 December 2019 without constraints on themes, lengths and forms. All films that are relevant to social and human interests and considered documentaries by the filmmakers or production companies are eligible for submitting.
In anticipation of the 13th festival edition scheduling from 6 to 15 May 2022, TIDF is very excited to announce that the competition submission officially opens on Monday, 6 September 2021 at 12pm (GMT+8) along with the launch of a revamped festival website that is more visually appealing and user-friendly for the entrants and audience to navigate through the features and up-to-date information.
Departing from the past regulation, a new selection method will be applied starting the 13th TIDF for revitalizing flexible curatorial vision. The festival and its professional preliminary selection committee will decide which section the submitted entries will participate in and later announce it alongside the shortlists. There are three competition sections —Asian Vision Competition, International Competition and Taiwan Competition. The shortlisted for the competitions may compete further for the three Cross-Section Awards, including Next Generation Award, Audience Award and TIDF Visionary Award. TIDF Visionary Award is introduced to encourage the documentaries that capture and propose a deeper understanding to the dynamic or zeitgeist of the Chinese-speaking world today.
To seek remarkable Asian documentaries with stylistic integrity and insightful viewpoints, the highest prize amount in TIDF is given to the Grand Prize of Asian Vision Competition, accompanied by a cash prize of NT$320,000 (approx. US$10,700) while the Grand Prize of the other two sections and TIDF Visionary Award rank the secondary with a cash prize of NT$240,000 (approx. US$8,000) for each. All film submissions must be made on the TIDF online entry system no later than Monday, 20 December 2021 at 12pm (GMT+8).
Read all about the Entry Guidelines and online entry system, please visit
For more questions regarding competition and film submissions, please contact us at