TIDF x DAFilms Taiwan IDF: Asian Panorama
2021/05/14 16:52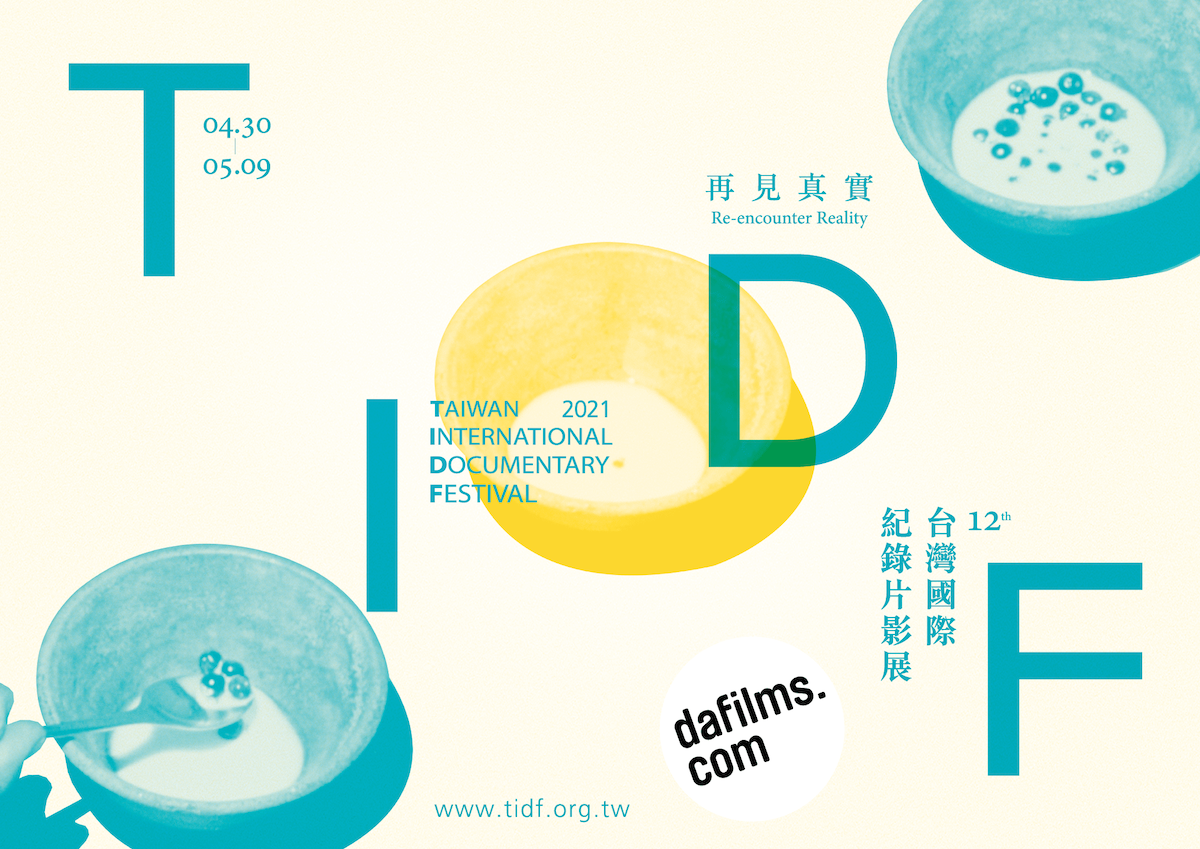 Serving up the showcase that just ended physically on May 9th in Taiwan International Documentary Festival (TIDF) 2021, eleven Asian documentaries handpicked from the festival's competition sections (several awarded by expert juries!) are ready for an online festity at DAFilms.com. As TIDF's major category, Asian Vision Competition encompasses a real breadth of work made by Asian filmmakers or tackles issues within this huge region, aiming to reflect the broad spectrum of Asian audiovisual languages. TIDF hopes to bring to the audience the independent viewpoint and creative spirit of the world and encourage the experimentation on documentary aesthetics. Sturdy and vigorous works are emerging, even specifically in Asia. Many of them are vibrant and elastic in terms of their stories and forms that can't be missed. Now you have the chance to navigate through the Asian documentary landscape and "Re-encounter Reality"!

The full lineup of this online program is selected from the festival's Asian Vision Competition, Taiwan Competition and Chinese Documentary Award. There are films that reconstruct memories by juxtaposing non-fiction material from personal archives with elements of narrative cinema, performance, video art, digital culture, pushing forward your boundaries with their originality. There are also films which liberate the essences of ordinary from the form, revealing the story purely through the intimate gaze at the daily scenes. And when it comes to the way the world works, some of the excellent films reflect the universal issues from local observation and successfully pose the question through exceptional approaches by initiating a campy political art action, engaging in a crowdsourced reenactment, writing film diaries or making home video, all trying to find a niche in which dialogue could occur.
See full lineup:
Selected from the nominees of Asian Vision Competition
100 Times Reproduction of Democracy
Vigeo Cannonball Run 2016: Xi'nan, Nanshan, Sankeng, Liuhe, Datang Running 96 km for the Northernmost Trip
For My Alien Friend ☆ Asian Vision Competition Jury Special Mention
Selected from the nominees of Taiwan Competition
Gubuk (Hut) ☆ Taiwan Competition Merit Prize
Flow ☆ Taiwan Competition Jury Special Mention
Selected from the nominees of Chinese Documentary Award
Happy Valley  ☆ Chinese Documentary Award Jury Special Mention
Duration limited: May 16th to June 6th, accessible worldwide
One week
FREE streaming

from May 16th to May 23rd
register NOW to watch the full lineup!
Bonus +++ Get a 50% off discount with TIDF's exclusive voucher code on DAFilms subscription, available until June 6th! Only one step more to explore the world of documentaries!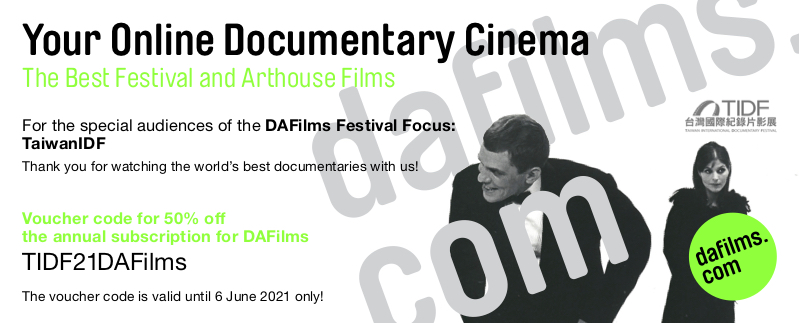 , operated by 7 key European documentary film festivals network – Doc Alliance, is one of the leading online platforms in the world. Currently, over 2,000 titles and hundreds of film programmes are accessible on the platform. In recent years, in order to provide more customized viewing recommendations for its global members, in addition to the European page, it has expanded the curated page for Asia and Americas. The subscription fee varies for each version page. This online program is launched on all pages.
Friendly reminder:
The duration of this program is based on the Central European Time (UTC+2).
There are territory viewing limitations to several films.
All films are with English subtitles. Mandarin-speaking films are with both English and Chinese subtitles.