Interview with Baunay Watan and Yuma Taru for 2021 TIDF 'Taiwan Spectrum'
2021/08/06 19:30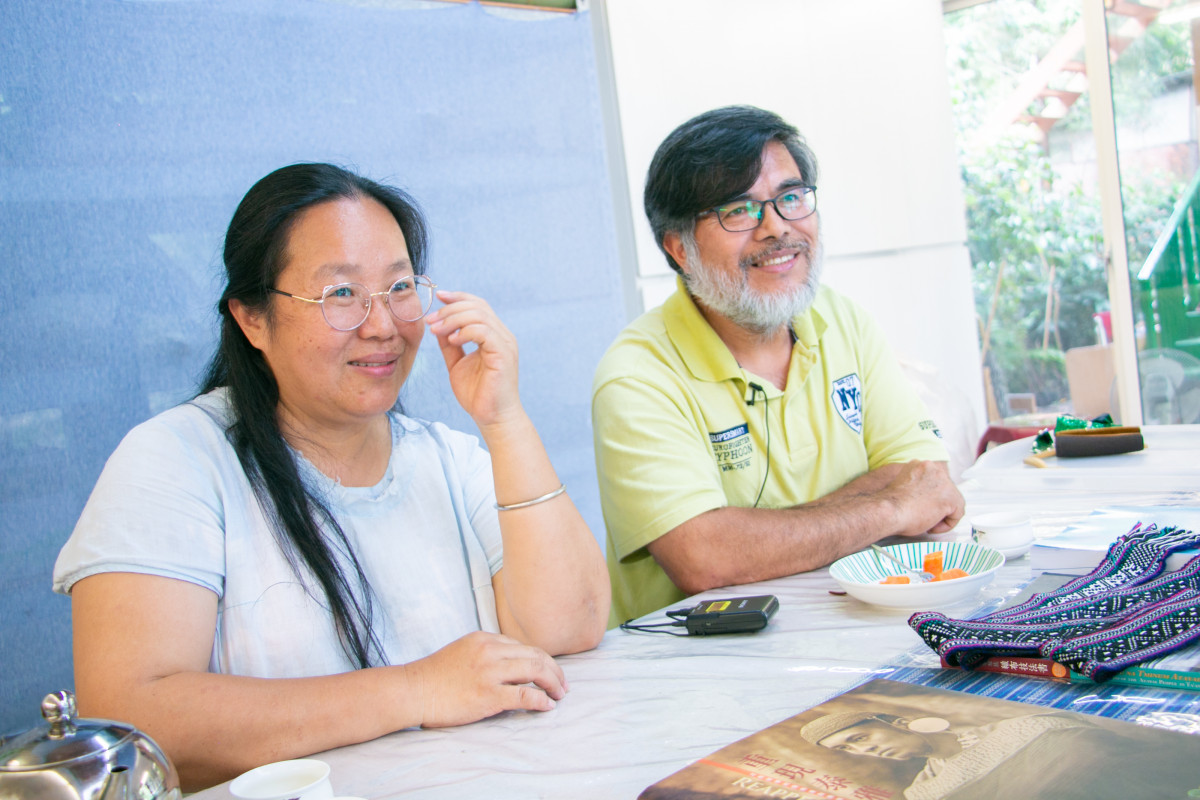 Tell us a bit about your participation in the Full Shot's Local Documentary Filmmakers Training Scheme in the central Taiwan in 1996.
Baunay:
I remember watching the works of
HU Tai-li and
LEE Daw-ming and their post-screening discussions.
The realities of filming in the tribal communities were even more challenging. Video tapes only lasted 60 minutes, yet you would frequently be talking to the elders for more than two hours without switching tapes. During filming, the elders might ask: 'Why is there always a young lady watching us?' I later figured out that they meant the camera. After filming them for a long time, a mutual understanding developed between the elders, ourselves and the equipment. However, some elders were still scared as they believed that being filmed is like having your soul captured.
I skipped some of the editing classes so I was unfamiliar with the non-linear editing. When it came to editing my own footage, I had cut less than three minutes by the time it crashed, I assumed that I had the bad luck of ending up with a faulty product. My course graduation work was 30-minute long, but I had to rush to complete it in just one night. I remember telling
Pilin Yapu
: 'I'll tell you the images I want, you find and edit them for me.' I still remember as if it was yesterday.
How did your filmmaking style change after the

Full Shot programme

?
Baunay:
After finishing military service I returned to the village to conduct field research. My tools were the sound recorder and the camera. The first formal research was a genealogical survey of the Atayal and
Saisiyat
, which I did with Yuma Taru, Pilin
Yapu
and some other friends. The main impact of the Full Shot programme was learning how to use the equipment and techniques. Sometimes we would only half-understand the explanations of our elders and we thereby realised that sound recording devices were unable to capture the facial expressions and other visual details playing out as the elders narrated their stories.
Tell us about your method for studying

tribal cultur

e. Should indigenous themes only be filmed by Indigenous peoples?
Baunay:
The Atayal Liyung Peynux Culture Workshop had already been up and running for a while when I joined as a filmmaker in 1994. I first assisted Yuma with her weaving projects, as seen in
The Traditional Clothes of Raisinay Village
(1997), then further went on to understand thread-making from the ramie plant in
K'gi na yaki
(Grandma's Ramie, 1999). After following and learning from the elders, I completed
Trakis na
bnkis
(Our Ancestors' Millet) in 2003.
The Glory of Atayal Facial Tattoo
(2009) was my synthesis of years spent filming about the Atayal tradition of facial tattoos. Apart from these films, I also published various textual documents.
The communities lacked images and we wondered why we could only learn about our ancestors through text and photos. The photos weren't even taken by members of the community. Who is more suited to filming Indigenous peoples? There is no correct answer. When the older generations talk in their mother tongue, perhaps outsiders won't understand, or won't quite grasp the development of issues as well as the subtleties of the transitioning moods. Different directors will be influenced by the setting in different ways, leading to different representations of the material; we must respect their choices. There are stereotypical ideas about Indigenous groups, it is our responsibility as documentarians to correct pejorative stereotypes, not to strengthen them.
Why the tribal weave? Did you run into any difficulties while shooting this topic?
Baunay:
There were only three weeks from shooting to editing, I needed a rapidly accessible angle. Yuma told me: 'You've already been shooting about weaving, why not just continue?'. Anyway, it's all practice. We should always practice finding good entry points into filmworks.
The elders were also looking forward to their weaving knowledge being passed onto later generations, as they mostly hadn't seen the traditional garments either. Back then my knowledge of weaving was zero, it was only because I decided to make
this film that I was compelled to find a way to represent this craft. I had originally set Yuma's grandmother as the protagonist since my spoken Atayal is poor and I could ask her questions in Chinese; yet in the end, Amui, the grandmother's sister was the most important character in the film.
She recalled and shared with us her memories about weaving while shooting.
Language was a difficulty, to enter the
community
you need to know the mother tongue. At the time my spoken Atayal was not so strong so I was half field-researching and half learning the language from the elders. To this day I am still learning more about mother tongue as I continue to document.
Tell us about the importance of weaving in Atayal culture.
Yuma:
We want to bring back the traditional garments one by one. In my generation, all of the clothing had disappeared. When I first began researching, I was unaware that even clothing has such a profoundly complex system behind it. Several distinguishing factors, such as the colour, the pattern and the positioning were all indicators of where you came from. When you begin to explore and analyze its various microcosms, the depth of culture becomes ever clearer. We explored more than 200 villages and analyzed thousands of objects before we began to understand what our culture looked like a century ago.
During the film, the scene where Amui forgets how to weave and instead begins to sing is especially moving. Were you expecting to capture scenes like this?
Baunay:
I was totally not expecting her to start singing. I guess she thought, 'Boring. We've been doing this all day and it's not getting anywhere'. It was a random stroke of inspiration that led her to sing.
It was only when WU Yii-feng asked me what she was singing that I realised I should translate the lyrics. Later, when I was showing the film in the village the sound was not working, so I asked Yaki and she was happy to sing along with the film version of herself. My footage is always true to the original setting. After that, I never participated in any other competition. My mission in filmmaking is not to win awards, but to do something for myself and for the next generation. I think this is more important.
Do you still believe in the power of the documentary? How do you view the connection between documentary filmmaking and indigenous culture?
Yuma:
Documentary helps us to arrange our memories, it helps the elders to remember. Of course, documentaries have their own meanings. From the beginning our first wish was that they could be a useful tool, helping to receive and pass on the baton for aspects of indigenous culture already reaching their tail end.
Baunay:
Of course some people would say this film was so long and tedious, as I couldn't bear to part with any of its elements; however, at the time of filming, it was no different from my thoughts now.
It's a working process of a craft. The first
step is to know your tools, to design, draft and trim before you begin weaving. In filmmaking, before you can make the subject matter more rapidly accessible, you need to first observe the basic order, only then can you arrange it step-by-step during the editing process. This goes for publishing or documentary filmmaking. We've never strayed from the path we originally laid out, it's all in the same vein of thought.
Place: Atayal Lihang Workshop, Miaoli
Interviewers: CHU Ching-feng, LIN Yu-yun, Ariel WANG, CHEN Chun-tien
Editors: CHU Ching-feng, LIN Yu-yun