Interview with Mayaw Biho for 2021 TIDF 'Taiwan Spectrum'
2021/08/06 19:06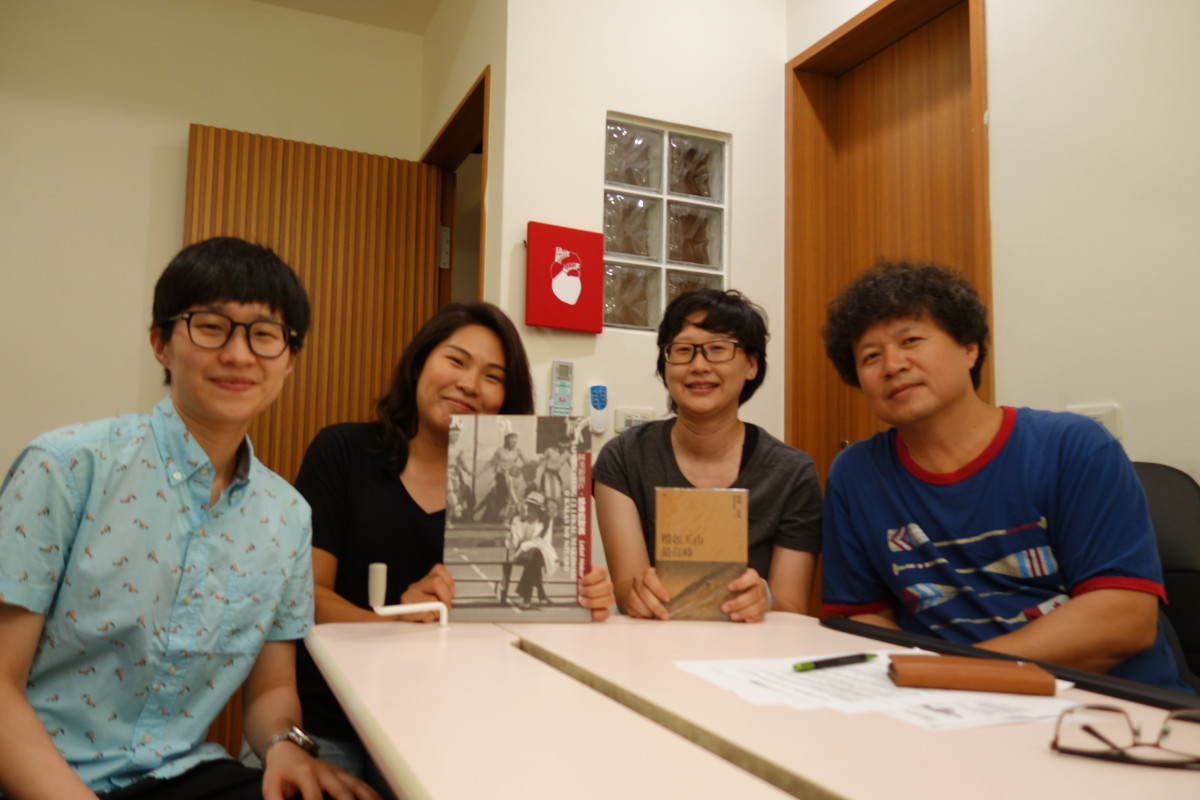 How did you first begin filming documentaries?
During my high school years, my dad had a point-and-shoot Konica camera, and I would secretly take it and shoot the last few shots on a roll of film. This led me to develop a feel for imagery, for what was 'aesthetic beauty'. After high school, I worked as a wedding photographer's assistant. During my compulsory military service, I managed to qualify for the Naval Photographic Intelligence Unit, where I was responsible for documenting the visits of foreign dignitaries. Only then did I realize how vast the world is that I can explore and there are opportunities to pursue self-development.
In my freshman year at university, I realised that you'd need a whole team and lots of budget for equipment to make a fiction film whilst you only need yourself for documentary filmmaking. My teacher CHI Lung-zin suggested, 'Why not tell the story of your tribe? Why not put the Pangcah songs into your films? Why not use your Pangcah name?' So I began filming things around me and Lekal Makor, the village chief ('tapang'). There are plenty of indigenous stories, and they fit perfectly in the form of the documentary which you could handle on your own. I received acclaim for my films, as well as awards, so I just kept making films.
With the rise of digital video in the mid-1990s, we've seen a number of Indigenous directors involving documentary filmmaking. Have you been following these developments? Have you seen any of their works?
No, not really. When I took a class in documentary filming, the teacher introduced foreign documentaries, but not specifically about indigenous documentaries. I didn't really know much about the outside world and other Indigenous documentaries overseas, so I tried to do stuff that was a bit different. I applied for government grants for making films that criticize the government but some juries still awarded the films. I even won awards abroad. If I hadn't received these acclaim, I probably wouldn't have kept making films.
Indigenous peoples were always arranged, decided, filmed. It even goes way back to the story of WU Feng's sacrifice in which Indigenous peoples were misplaced, ridiculed and mocked.
Around 1995 to 2000, Indigenous peoples and the government started to realize that we needed to do something about it. We had people bring back some new concepts, that Indigenous peoples should
make their own films.
This was the first time that Indigenous peoples used cameras to film themselves, and tell their own stories.
I only came to know other Indigenous directors after I became a director. When I held the 'Reel Amis-Real Pangcah' in 2001, Laway Talay's
New Paradise
was in the programme. When I was shooting films about indigenous land rights, Pilin Yapu's films were also focusing on the same issue. Therefore, people had some discussion about our works during that time. The documentary circle in Taiwan isn't big, and Indigenous filmmakers are even fewer in number, so it's only natural that we help each other. It is easier to make more progress with joint forces.
What are your thoughts regarding who can film Indigenous peoples?
Most people say it should be Indigenous filmmakers, but I don't believe so. I'm not against non-Indigenous filmmakers, and many of them do a great job. But most of the incorrect stereotypical portraits made by non-Indigenous filmmakers. On the other hand, Indigenous filmmakers can make the same mistake as well, so this has nothing to do with their identity.
Why do Indigenous filmmakers make such mistakes? It's because they weren't taught correctly, so it's more a matter of mindset. How do we create a certain mindset? Who decides what is good and what isn't? How do we decide? These aren't difficult questions at all. It will keep progressing, the standard is always rolling and it is malleable. Why did we feature a Japanese director in our film festival? Because I found that he and Pangcah people share similar values. But to what percentage can we call it 'similar'? It's not a matter of quantity, but the quality and content of the discussion, that people are able to talk through their perspectives. Thus the measure will gradually move away from the comparison between quantity, numbers and forces.
Could you talk about how the sweet potato song in

C'roh Is Our Name

(1997) came about?
I think I haven't watched the film in 20 years. That was an extremely low-quality film, but the spirit within it is no laughing matter, and offers many critiques. Our bodies were always used in the service of others: our soldiers guarded Japan, then China, then the R.O.C., but they never guarded our tribes, our land, our forests, our wildlife. During the film festival, a man stood up and said, 'Sorry to say, but I was a mercenary like those mentioned in the film.' I felt relieved, because we'd achieved a sense of reconciliation through the film. The sweet potato song was just some improvised fun, we felt it sounded nice and kept on singing it.
Children in Heaven

(1997) stands out as a distinctive work in your output. Could you talk about how it came to be?
From the perspective of people on the bridge, the Indigenous peoples are a bunch of slackers
fooling around an
d drinking even when their houses have torn down. I thought I'd bring a different perspective from under the bridge. I spent two years on shooting the film there. I didn't know how to portrait the adults, so I documented how the kids felt. I didn't have a video camera back then, so I'd go there from time to time to take some still shots.
The whole issue is quite a complex one. I didn't know anything about the law, and I was not good at words, but the whole situation was very disturbing! When I heard Ara Kimbo's 'No No Song', I thought, 'Wow, this is great!' So I decided to use the song as the basis for
Children in Heaven
. My teachers encouraged me, saying that my work might be a bit naïve, but it was highly original. I often show this film to students who want to make films and tell them, 'Is there anyone here who can do a worse job than me? I was awarded for this, so of course you can do much better.'
In

As Life, As Pangcah

(1998), we see Lekal Makor as a highly charismatic man with a rich philosophy of life. What has been his impact on you and the community?
He has been a profound influence on my entire life. He taught me about the subjectivity of Pangcah. Although he was never highly educated, he nevertheless had a clear understanding of cultural subjectivity. He would put this concept into practice and teach us personally so that I could understand the roots of the Pangcah people. Even though I'm not fluent in the Pangcah language, he never scolded me for it. He is a strong force to the youngsters around him just by sitting there quietly.
When the annual Illsin harvest festival was met with rain for several years in a row, he said to the young people, 'I'm sorry. You've had to take so many days off work for this. It must be because our generation didn't do our best, so the Gods decline to give us good weather.' He dedicated his whole life to handing down our traditions, fearful that our beautiful festivals and rituals might die out. Every day he would debate between traditions and modernity, how to preserve our traditions while progressing in the modern age. He must have had no idea what documentary films are, but he said, 'You can ask me to sing, to tell stories, and to dance. I only wish for future generations to know how we led our lives. But I'm soon bound for the grave, please come see me more often.'
You've paused your filmmaking career for quite some time, would you want to make films again?
For the past eight years, I've turned from filmmaking to dealing with public issues and fundraising. I have many ideas that can be turned into films, but if I went back to shoot, there wouldn't be anyone to continue my efforts in the
Pangcah
language school and other public issues. I want to pass the mantle of filmmaking to younger people and professionals, so that we can proceed with even more difficult issues.
Diversity has always been an empty slogan in Taiwan. Everyone talks about integration, but as the minority, we always get integrated and become alien to ourselves. Do people respect each other? Is there room for separate identities to flourish? The Indigenous peoples have been here for the longest, yet we are least confident—we've constantly been colonized, copying other people's culture, failing in our own education, and it is all because we are actually learning things that we don't belong to.
In the next few years, I will definitely complete a film that I started 20 years ago.
We had a rainmaking ritual during a drought some years ago.
I want to leave the film for a bit longer because of its content. Even though I've left my career in the media, I can still use education to impact our community, Indigenous peoples, and non-Indigenous peoples. I never look back, I only do my work and forge ahead. I've failed in lots of things—I've failed in making reforms within the system, and failed in my election campaign. It is precisely because of these unsuccessful experiences, I know how to avoid making the same mistakes. We're moving towards a better future, we're just not quite there yet.
Interviewers & Editors: Nell Twanmu, Gracy SHIH, HUANG Ching-wen