Interview with Lalan Unak (TSAI Yi-chang) for 2021 TIDF 'Taiwan Spectrum'
2021/08/06 20:10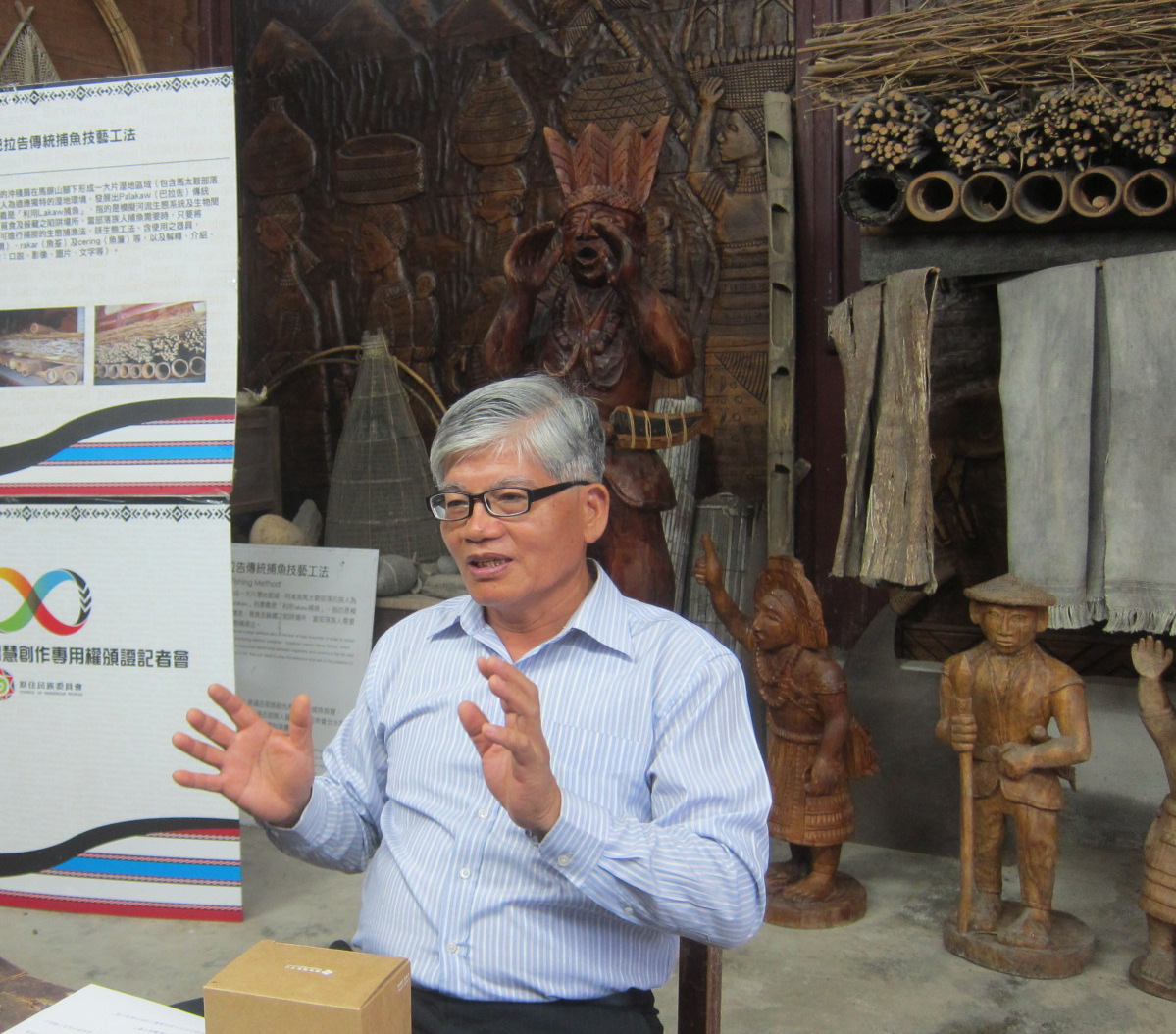 Before you took part in the Full Shot's Local Documentary Filmmakers Training Scheme you were already image-recording the camera into your cultural preservation work. Why did you decide to take up filmmaking?
Before returning home to Hualien I had opened a company in Tainan. Each time I returned, I found the culture had changed significantly and I wanted to preserve what was left of it. At the time, researchers primarily used sound recordings. I remember arguing with someone about some details of traditional culture, we both claimed to have heard our versions from some elderly villagers. I realised then that since many people do not fully understand indigenous languages, the visual image was the most direct medium. If the researchers misunderstood they would also misguide others. I felt this wasn't right, so I decided to learn how to use
a video camera. At the time, I bought a Hi8 camera after I took the filmmaking class at China Youth Corps (CYC), an organisation that provides recreational services. I mainly wanted to use sound and images to preserve and to prove. For example, our culture conducts vigils to watch over and protect the recently deceased where the elders would get together there. I would go and listen to the stories that they were telling and record them with my camera. For a time I would drive back to Hualien from Tainan every week, I managed to capture the transition from poorly-paved routes to well-built roads. Later, when I joined the Full Shot programme, there were only two cameras, so I just used my own Hi8.
The Painter from Fata'an
(1996) was filmed using the Hi8 camera.
Why did you choose to film CHENG Chin-sheng?
I had just finished building my new house and asked him to paint it. He was amazing. He just happened to be in the same age range as me and he was full of stories. I took an uninterrupted long shot of him standing between two boards that were laid across two ladders. I was just waiting at one side for him to fall, but he never did. I was being lazy so I had just added a wide conversion lens and fixed the camera in place so that I wouldn't need to switch the position, the result was a fish-eye lens effect. For the accompanying sound, one time he was at the front door fixing a ladder, the radio happened to be playing some weird music so I stopped my car just in front of the house, turned up the radio and recorded the mixed sounds.
How did you learn of the Full Shot programme? You had already taken a short course in filmmaking, what made you want to register?
I was really into community development
[1]
, so I happened to be very familiar with the Cultural Affairs Bureau, formerly known as the Culture Center. That's where I was made aware of the programme. I assumed that it would be using advanced techniques and the courses would be more theoretical. I wrote in the application saying that I wanted to preserve culture, which has always been my intention and driving force since the very beginning.
Do you remember the course content? Did the Full Shot instructors give you any feedback on your work?
Each day, after the lecture we would go outside and film. They would tell you this is a tracking shot, this one is called...etc. I just wanted to film, I didn't care too much for these terms; however, it still challenged me and my angle-selection became more refined. The teachers would give us some suggestions about our shots, but would also tell us to incorporate our own character. We had discussed that filmmaking should be genuine without faking your shots, and being responsible to our protagonists. Indeed, we talked about ethics a lot, but my main mission was cultural preservation, documentation and the representation of the culture and language. It was important to me that the mother tongue is revealed through real conversations. To achieve a more truthful representation, I established an art troupe made up of my relatives. We filmed the ritual of rainmaking, of insect-expellingas well as various songs. I do the filming, while they bring these rituals back to life. It is our 22
nd
anniversary this year. Before shooting, I would do field research by gathering the elders to have a drink and ask them questions such as if there were songs they sang while cutting wood, or how did people court in the olden days. Then I would document all that.
Have you ever had any chance to show the footage to the public?
So long as it's not controversial we can show it. We now have screenings every Tuesday at the activity centre. Our youth especially enjoy footage relating to traditional ceremonies with gods, spirits and shamans.
What films did they show you during the Full Shot training programme?
I especially remember a film about an ethnic minority group in the Amazon rainforest. They were leading a primitive way of life, yet they were also shooting and screening their own documentaries, just like us. The only difference was that they weren't wearing clothes, they were all half naked, whereas we do wear clothes over here! I recorded some parts of it to show the villagers and they exclaimed: 'Oh, we used to be like this too!' After seeing the footage they felt more relieved, knowing that was how other ethnic groups were preserving their languages through filmmaking. So that they would understand they should speak their mother tongue rather than Mandarin when being filmed.
Do you still do the filming nowadays?
It depends. I'm sure I could bring in external professionals, including drone shots and such. Someone tendered for a film project a while ago but in the end they didn't finish the film. These profit-based projects are the worst examples and they wouldn't share their footage with our community either. So it's best that we make the films ourselves, preserving our own community culture. We also have young people in our community know how to use video cameras. I want to teach filmmaking in my village too. It doesn't matter what kind of equipment you use or how you shoot as the technical barrier has become quite low nowadays. It's good enough as long as the shots are steady without too much shaking. I'll just pass down what my instructors taught me, to give them a better concept in filmmaking.
Place: Fata'an Pangcah Cultural Workshop, Hualien, East Taiwan
Interviewers: CHUNG Pei-hua, CHEN Wanling, Wood LIN
Editors: CHUNG Pei-hua, CHEN Wanling
---
[1]
In 1994, the Council for Cultural Affairs presented a report at the legislature detailing policies on community development and the projects underway. It is the commencement of the so-called 'Community Empowerment Policy' in Taiwan. The policies embodied former President LEE Teng-hui's visions for community development and aimed to encourage the public to take the initiative to improve their local communities. Since then, the idea of community development has taken root in local communities.

(Source: https://reurl.cc/j5Wl4y)