2022 TIDF Filmmaker in Focus presents celebrated South-African contemporary artist, William KENTRIDGE
2022/03/18 18:42
2022 Taiwan International Documentary Festival (May 6 - 15) presents South-African contemporary artist William KENTRIDGE as Filmmaker in Focus. Being one of the most influential artists of our time, his award-winning works which span from drawing, film, sculpture to theater, have been shown at major international museums, galleries, art and film festivals. For the first time, TIDF audiences will have the chance to see 19 of KENTRIDGE's most iconic filmic works, and an in-depth interview that especially reviews his creative filmic works.
As TIDF Programme Director‌ Wood LIN points out: "KENTRIDGE may not be a typical documentary filmmaker, but his interpretation of historical memory and the use of different media to record time and depict reality echo the nature of cinema. He embraces a language of ambiguity and uncertainty as opposed to a single truth that invites audiences to come up with their own interpretations.
KENTRIDGE likes to approach a problem from its margins, from the periphery. It is noteworthy that - albeit a world-renown artist - he has always been working and living in his hometown Johannesburg. The geographically peripheral location may have contributed to his "peripheral thinking" that stimulates deeper interpretations and reflections on the metaphors which he uses to depict reality."
Born in Johannesburg, South Africa, in 1955, during the apartheid-regime, with both of his parents human rights lawyers, KENTRIDGE witnessed a society ravaged by racial conflict and institutionalised violence from a young age. His oeuvre alludes to South Africa's historical memory such as life under apartheid, the Sharpeville massacre and the release of Nelson MANDELA, yet refuses to portray any social and political events directly. He has said of his work, 'I have never tried to make illustrations of apartheid, but the drawings and films are certainly spawned by and feed off the brutalized society left in its wake. I am interested in a political art, that is to say, an art of ambiguity, contradiction, uncompleted gestures and uncertain endings.'
One of the highlights of the programme will be KENTRIDGE's famous charcoal animation series "Drawings for Projection" that revolves around two characters: capitalist Soho ECKSTEIN and artist Felix TEITLEBAUM. The eleven short films, created over thirty years (1989 -2020), are fable-like stories, full of allegories and metaphors, with the recurring theme of the recent history and brutal reality of South Africa.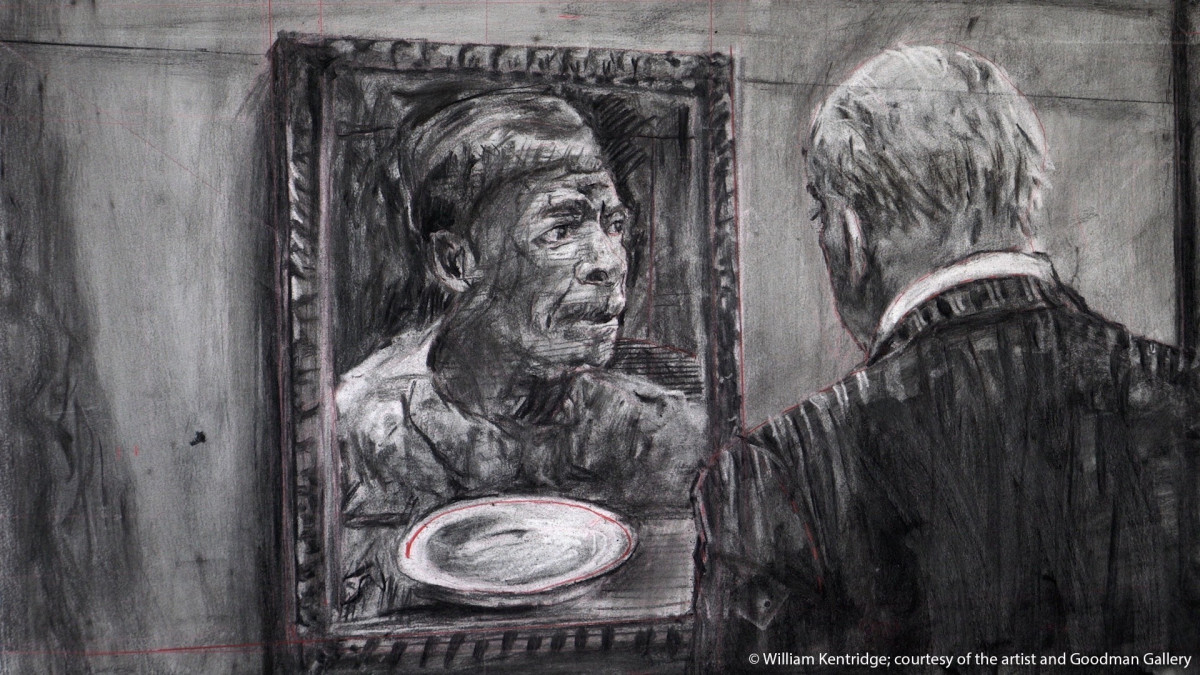 City Deep, 2020
Also, they showcase KENTRIDGE's distinctive animation technique: with the principle of no script, no storyboard, starting with a random charcoal sketch, he erases and redraws parts of his sketches over and over. By photographing each change, he creates an animated film through a time-consuming frame-accumulation technique that draws on the visual language of the early cinema. The imperfect erasures of the successive stages of each drawing become a record of the progress of an idea, and a record of the passage of time.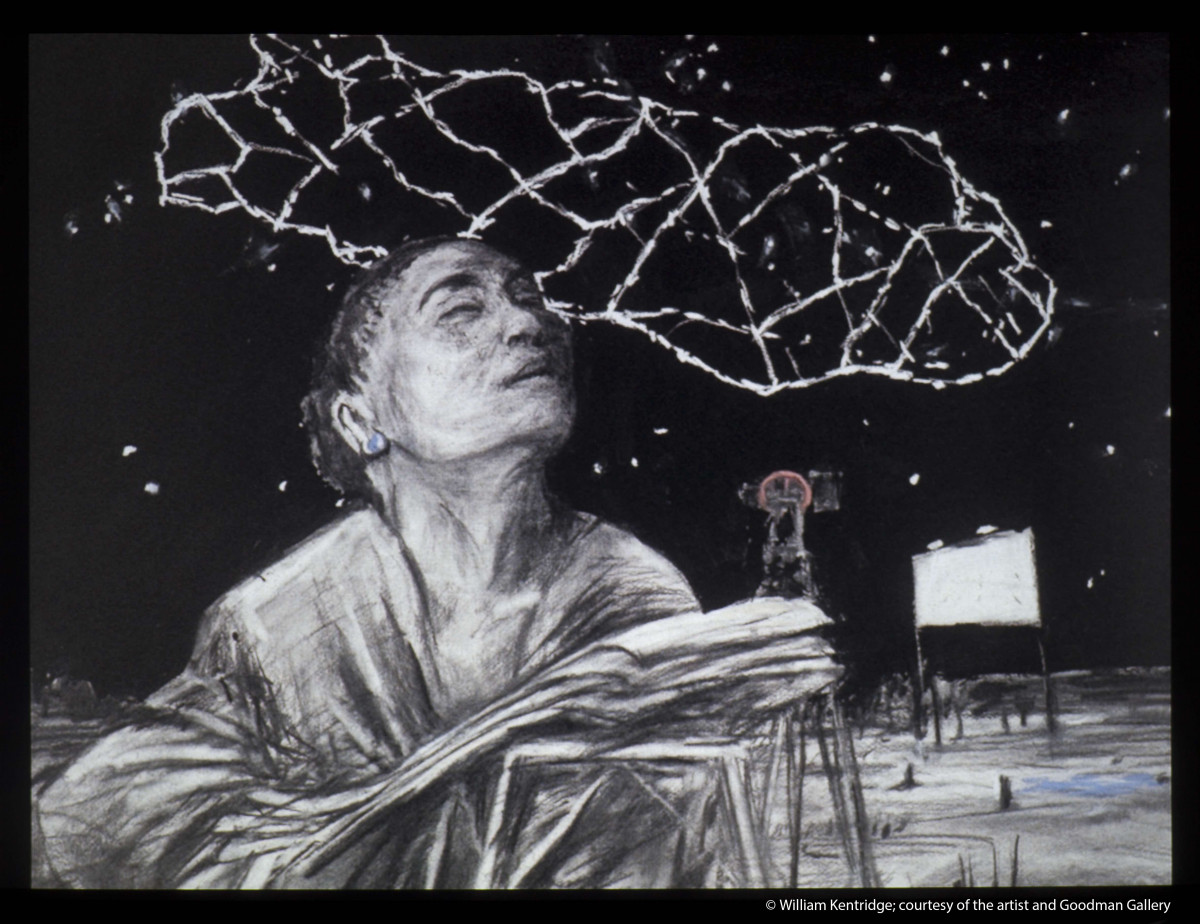 Other outstanding works to be shown are Shadow Procession (1999) and Journey to the Moon (2003). By transforming human beings into shadows on the move, the former is not only a reflection on Plato's cave allegory, but also a homage to the art of shadow theater. Journey to the Moon, is a tribute to the magical story Le Voyage dans la Lune (1902), a cinematic masterpiece by George MÉLIÈS, where KENTRIDGE mixes live action footage with his famed stop motion drawing technique.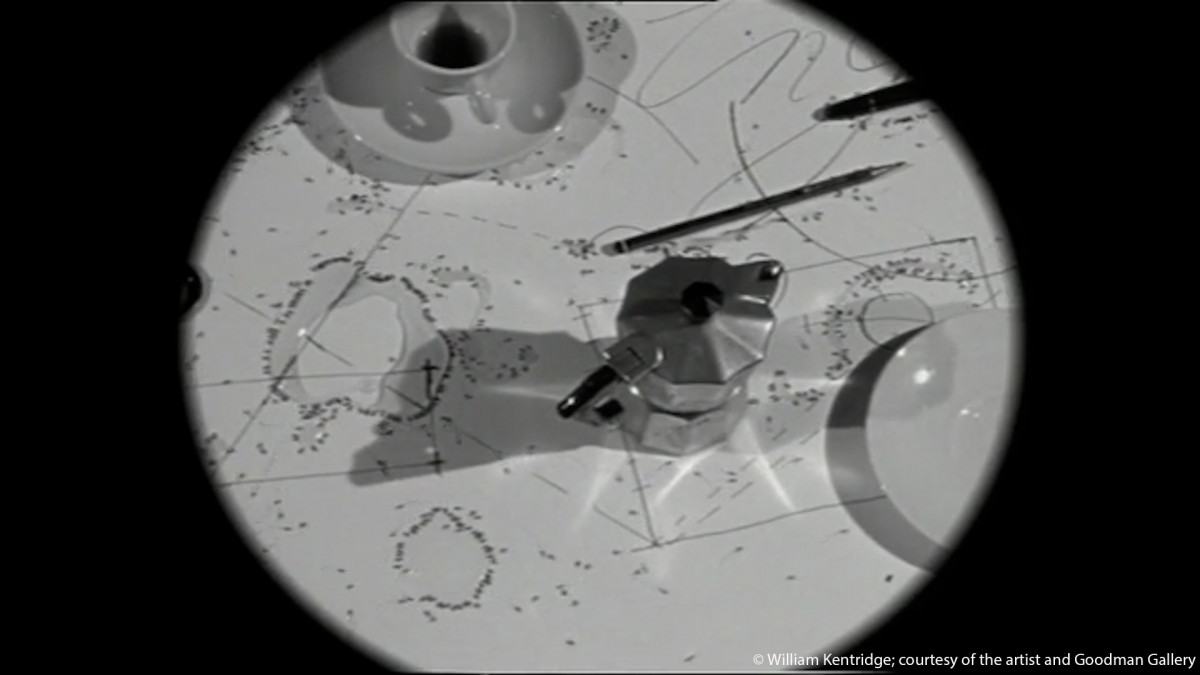 Journey to the Moon, 2003
His iconic "Flipbook" films, including Sonnets (2012), Sibyl (2020) and other 5 works will also be shown. There, KENTRIDGE draws on old books, creating the most primitive form of motion pictures through flipping the pages. The Carnets d'Egypte (2010-2013),
originates from a project on ancient Egypt that had been invited by the Louvre
.
This work, which offers a visual translation of ancient Egyptian culture in contemporary language, demonstrates KENTRIDGE's extraordinary artistic versatility that includes work for theater and opera (e.g. the scenography for Mozart's Magic Flute 2004).
Sibyl, 2020
To offer audiences a better understanding of the background of KENTRIDGE's work, TIDF included Rosalind MORRIS's film We Are Zama Zama (2021) in the programme, which explores illegal mining in South Africa. The film shows the way miners seek gold in the underground and the local women crush rocks by hand, which can all be seen in the "Drawings for Projection" series. MORRIS is an anthropologist who has been working in the South African goldfields for nearly 20 year, and a long-time friend and collaborator of KENTRIDGE.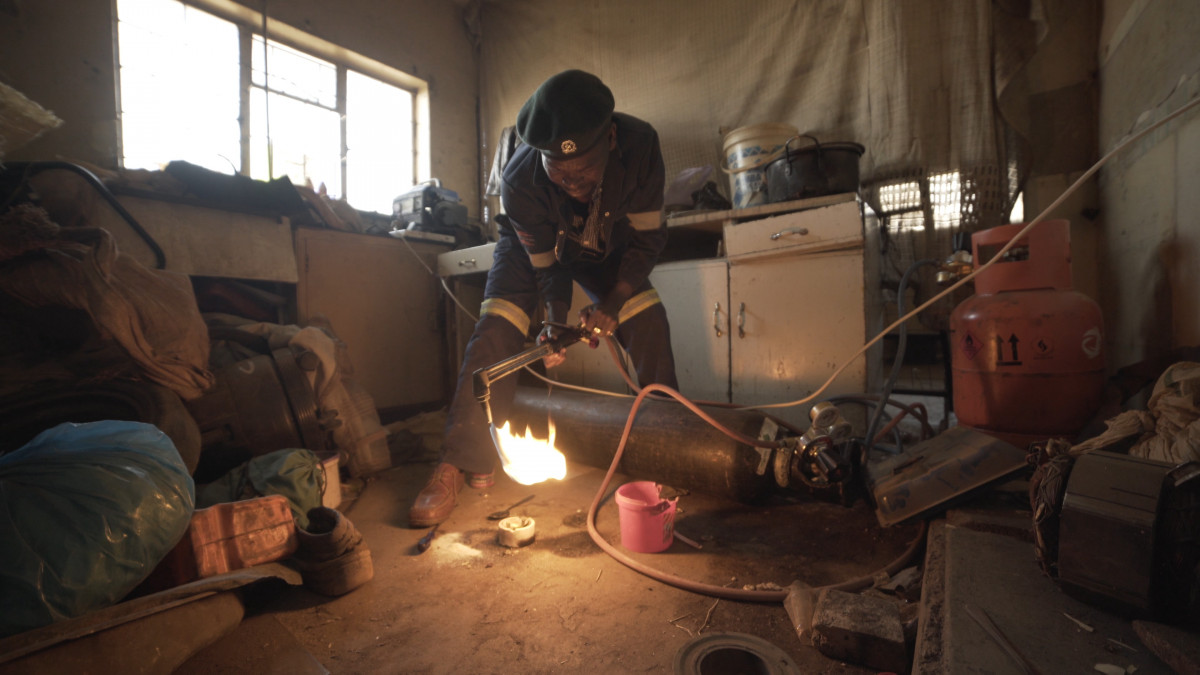 We Are Zama Zama, 2021
‌The 13th TIDF will be held from May 6 to 15 2022 at the Taiwan Film and Audiovisual Institute, SPOT Huashan, Vie Show Cinemas Taipei Qsquare, and the C-LAB. The‌ full line-up of almost 180 films will ‌be announced ‌soon. For further details, please check our
website
and follow us on
Facebook
and
Instagram
.
2022TIDF Filmmaker in Focus William KENTRIDGE:
Johannesburg: 2nd Greatest City after Paris
1989|16mm film transferred to video|Colour|8 min
Monument
1990|16mm film transferred to video|Colour|3 min
Mine
1991|16mm film transferred to video|Colour|6 min
Sobriety, Obesity and Growing Old
1991|16mm film transferred to video|Colour|8 min
Felix in Exile
1994|35mm film transferred to video|Colour|9 min
History of the Main Complaint
1996|35mm film transferred to video|Colour|6 min
Weighing... and Wanting
1998|35mm film transferred to video|Colour|6 min
Stereoscope
1999|35mm film transferred to video|Colour|8 min
Tide Table
2003|35mm film transferred to video|Colour|9 min
Other Faces
2011|35mm film transferred to video|Colour|10 min
City Deep
2020|Viideo|Colour|9 min
Shadow Procession
1999| 35mm transferred to video|Colour|7 min
Sonnets
2012|Video|Colour|3 min
Tango for Page Turning
2012|Video|Colour|3 min
Carnets d'Egypte
2010-2013|Video|Colour|34 min
Second-hand Reading
2013|Video|Colour|7 min
Soft Dictionary
2016|Video|Colour|3 min
Sibyl
2020|Video|Colour|10 min
Journey to the Moon
2003|16mm and 35mm transferred to video|Colour|8 min
We Are Zama Zama
Rosalind MORRIS|South Africa|2021|DCP|Colour|74 min